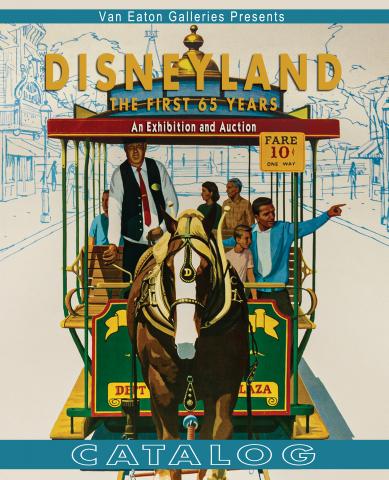 Production:
Studio:
Art Type:
Medium:
SOFTCOVER CATALOGS ARE IN STOCK AND SHIPPING IMMEDIATELY.
This is the softcover version of the catalog catalog for our August 2020 "Disneyland The First 65 Years" auction. This gorgeous collectible reference catalog measures 11" x 8.5" and features lovely full-color imagery for over 1000 items available in the auction, detailed across over 350 pages.
THIS IS A TEMPORARY SALE PRICE OFFERED PRIOR TO THE AUCTION DATE.
Van Eaton Galleries is proud to present "Disneyland The First 65 Years," an auction of over 1000 artifacts of Disney Parks history! This large exhibit and auction tells the history of Disneyland and Walt Disney World through rare props, signage, costumes, vintage souvenirs, attraction posters, and much more. Highlights of this auction include original Walt Disney autographs, rare 16mm films of some of Disneyland's earliest Lessees, park-used attraction vehicles, an original mock-up for the Pirates of the Caribbean guidebook, Disney Legend Milt Albright's original 1955 cast member no. 10 metal ID badge, huge park used signage, and a plethora of other one-of-a-kind items.