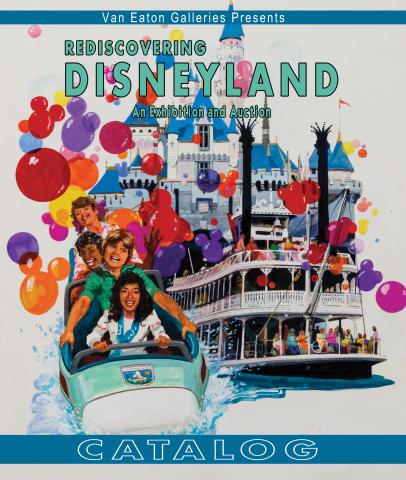 Production:
Studio:
Art Type:
Medium:
QUANTITIES ARE VERY LIMITED. CATALOGS ARE SHIPPING NOW.
This is the softcover version of the catalog catalog for our May 2021 "Rediscovering Disneyland" auction. This gorgeous collectible reference catalog measures 11" x 8.5" and features lovely full-color imagery for nearly 1200 items available in the auction, detailed across over 350 pages.
Van Eaton Galleries is proud to present our latest Disney Parks exhibition and auction, "Rediscovering Disneyland." This astounding collection brings together nearly 1200 artifacts from the history of Disneyland, Walt Disney World, and the other Disney Parks around the globe. Highlights of this collection include a loan agreement signed by Walt Disney and his wife Lillian Disney in 1954 relating to $60,000 Walt borrowed against his own life insurance policy in order to build Disneyland, an Mark VII Autopia Vehicle Body, vintage cast member wardrobe from Club 33, a hand-crafted mosaic display that was once part of Sleeping Beauty Castle, hand-written and signed sheet music for It's a Small World by the Sherman Brothers, Disneyland parking lot signs, as well as a plethora of park signage, props, costumes, furniture, and much more that celebrates the incredible history of Disneyland and its creator, Walt Disney.