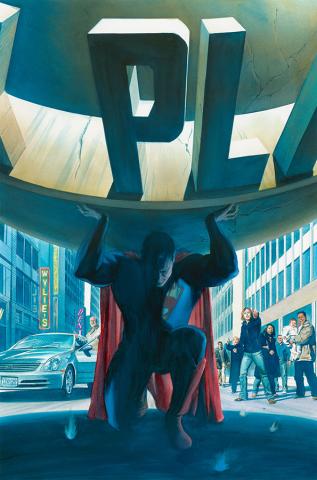 Character(s):
Production:
Studio:
Art Type:
Medium:
Artist:
THIS PIECE IS CURRENTLY SOLD OUT AND UNAVAILABLE.
"Superman: Saving the Planet" was created by Alex Ross as a cover for Superman # 677. This dramatic illustration symbolizes all that we have come to know about the heroic DC Comics' character, Superman. Blessed with herculean strength and a heart filled with compassion for the people of earth, the Man of Steel is depicted bearing the weight of the planet's fate on his shoulders. Equal to the task, Superman never fails to come to the aid of Metropolis, to save the planet, and rescue it's inhabitants from any who wish to do harm. Measuring 13.5"x9", each print is matted by the studio and created in a limited standard edition of 100 pieces with an additional 25 prints in each of the AP, PP, and EP editions.
This print comes directly from the publisher and is ordered at the time of purchase. Please allow 3-4 weeks for delivery within the United States. Please contact us with any questions regarding delivery or availability.